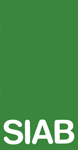 Institute:
Saxon Institute for Applied Biotechnology
at the Leipzig University (SIAB)
Address:
Permoserstrasse 15
D-04318 Leipzig, Germany
Phone: +49-(0) 341-2352078
Fax: +49-(0) 341-2352083
e-mail: siab(at)rz.uni-leipzig.de
Project leader:
Prof. Dr. Christian Wilhelm (cwilhelm(at)rz.uni-leipzig.de)
Responsible co-worker:
Dipl.-Ing. Holger Unbehaun
Dr. Swetlana König
Dipl.-Ing. Daniel Spindler
Dr. Gerhard Kerns
Objectives:
SIAB is an innovative company which carries out applied research in biotechnology and has long-time experience in industrial enzymes and bioprocess engineering, e.g. application of cellulase-/ hemicellulase-complexes for the enzymatic modification of lignocellulosic fibre materials for the production of glue-free wood materials (esp. medium density fibre boards), testing up to industrial scale.
The subproject comprises three main activities:
(1) Development and characterization of hydrolytic enzymes for the modification of lignocellulosic materials
Hemicellulase-/ endoglucanase complexes, esp. xylanase, that are suitable for the degradation of those carbohydrates in lignocellulosic fibres which are responsible for VOC formation during high temperature extrusion
development and characterisation of hydrolytic enzymes/ enzyme complexes obtained from two fungal production strains
optimisation of the fermentation process for the production of the relevant enzymes up to pilot scale
production of the required quantities of concentrated crude enzyme for its use in the work packages of the ERA-IB-project
(2) Development of effective incubation processes for the modification of lignin and fibre substrates using the developed enzymes or enzyme complexes
incubation-screening of substrates with the enzyme complexes of the project
optimisation of the incubation conditions up to large scale
development of separation and drying processes of the substrate
(3) Fermentation of white rot fungi for the production of lignin-modifying enzymes
experiments concerning the comparison between solid state and submerged fermentation for the laccase production with selected strains
Production of lignin modifying enzymes with pre-selected strains from USC and ULB up to pilot scale with the aim to supply enzyme samples for the investigations and screening tests concerning the application